Summertime skincare favourites: Products we've been loving this year
September 17 2020
·
September 17 2020
·
It's been a long, eventful summer – or should we say uneventful? We can't decide; on the one hand, the pandemic has kept us confined in our homes for the most part, on the other hand, it seems like such a long time since the year started, and so many things have happened (both good and bad, some which were tragic and some which were cause for joy and celebration). Needless to say, having some extra time on our hands gave us the opportunity to try out new skincare products, and indulge in some self-care to relieve ourselves of the stress and anxiety that this year has given us plenty of! We've finalized our skincare product picks of the year, in time for you to try before summer ends in a few more months. Some are old constants that have been part of our routine for ages now, some are new discoveries that we chanced upon this year, but they all have one thing in common: they helped our skin look its best all through the summer months and gave us a serious glow!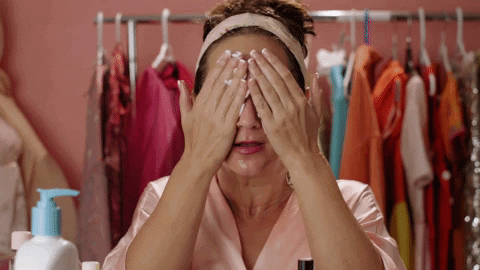 We rounded up each Primary girl's favourite skincare product or two that's been keeping their skin happy and healthy these past few months – read on and see which ones you want to try out for yourself!
Nida Faisal, Primary founder 
Retinoids are known for being an anti-aging superstar. They promote collagen synthesis, smooth out fine lines and wrinkles, boost skin elasticity, fight scars and hyperpigmentation, and also help correct oxidative damage to the skin. For Nida, The Ordinary's Granactive Retinoids are a particular favourite! "Retinoids are a summer favourite because they mattify the skin", she explains.
A cleansing oil from the much-loved French beauty brand Caudalie, this product has a cult following online. Nida loves it for her double cleansing step! "It's not stripping but never stays on the skin", she says, unlike some oils which tend to leave an oily residue. "And it removes everything!"
Mahnoor Khan, social media manager
I first came across this toner when I saw my boss Nida use it in a routine she did for Primary on a live Instagram session! And since then I've already repurchased it once, it's that good. Combining green tea with centella asiatica and hyaluronic acid, this is exactly the kind of toner that Korean skincare is now known for: toners that contain soothing botanical extracts and hydrating ingredients, unlike western toners that contain astringents like alcohol which dry out the skin.
Green tea clarifies the skin and fights acne, so this product has become a staple in my routine, given my acne-prone skin. I found that it helped shrink the appearance of my pores and also kept my skin hydrated throughout the day. Cannot do my routine without this!
Since I'm not old enough to use a retinol yet, AHAs are the next best thing. They exfoliate the skin, promote cellular turnover, boost collagen production, fight dark spots, and they're also humectants, so they also hydrate the skin. I love this serum because it keeps my skin free of congestion and I can feel how smooth it is when I use this regularly in my routine, night after night. Exfoliated skin also enables your serums and treatments to be more effective as they can penetrate your skin better! Also, I find that I don't need to use a chemical peel if I use this on a nightly basis, which saves me time and also does away with the risk of me ending up with redness or inflammation if I accidentally happen to leave a peel on for too long.
Another product I got based on the recommendation of my boss Nida! To give you a bit of context: I'm allergic to chemical sunscreens. All of them. Any chemical sunscreen I've tried, I've broken out in big, red, itchy splotches all over my skin. This has to do with an allergic reaction I suffered as a child, which was triggered by a chemical sunscreen. So I can only use sunscreens whose formulas contain physical UV blockers, completely sans any chemical filters. I previously used the Mineral UV Filters by The Ordinary, which is great when used underneath makeup, but it is not at all suitable for when you intend to be bare-faced all day as it leaves a serious greyish white cast! That's where this one comes in. A water-based, gel-like formula, it absorbs rapidly into the skin and barely leaves a trace, making it perfect for use nowadays when I don't have occasion to wear makeup (but still need to protect my skin from the sun!)
Rameen Tejani, blog writer
Cerave is a brand known for their incredible moisturisers. For Rameen, their lotion is a product that she can't live without anymore! "I have super dry and sensitive skin which has bothered me for as long as I can remember, especially since my makeup always looks patchy. Most moisturizers I tried made my skin feel weighed down or greasy."

"When i came across Cerave, I was skeptical but decided to give it a try (what's one more bad experience after a 100 bad experiences, right?). Surprisingly, I fell in love with the Cerave moisturizer after a few uses. It's super lightweight and doesn't make my skin feel oily. Honestly, it's been a game changer for me. I've noticed that it soothes my skin and really works to repair my skin barrier each time I shave my face or feel any kind of irritation. Basically, I've never been THIS grateful for a good moisturizer!"
"Even though this is a relatively new product in my skincare regimen, I quite like it. I've noticed that my skin looks dewy and naturally glowing. My mom asked me if I have BB cream on while I was in my pjs getting ready for bed."
Aiza Abbas, blog writer/social media consultant
Ever since it hit the shelves, the Glow toner has sold like hotcakes throughout the country. It combines a gentle 3% concentration of glycolic acid, which exfoliates and de-congests the skin, with hydrators like hyaluronic acid and glycerin and soothing botanical extracts like chamomile and mint. And it's a staple in Aiza's routine! "I have sensitive skin and other chemical exfoliant percentages can sometimes be a bit too much for me." But the Glow toner proves just right for her skin!
Neutrogena hydroboost gel moisturiser
A popular gel moisturiser amongst people who prefer lightweight formulas to heavier, thicker creams, Aiza prefers this product for its texture and for how light it feels on the skin."It's really lightweight and perfect for humid weather, but also still hydrating."
Read more
Comments
✕